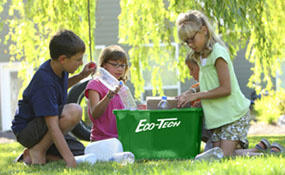 The waste management professionals at ecotech understand the importance of developing economically sound recycling programs. We also have the experience and resources to deal with a full range of commercial recycling programs in a responsible manner. What sets us apart from others in the industry is our experience and total dedication to teamwork, and to be the best.
ecotech provides the following recycling services:
Curbside residential recycling - Click here for a list of what's recyclable
Commercial and industrial facilities
Special events or trade shows
Large industrial metals recycling
Document and materials destruction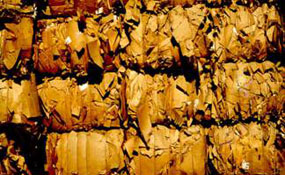 Recycling services and materials collected for homes and businesses may include:
Corrugated (cardboard)
Plastics (including stretch film) numbers 1 through 7
Metal recycling - ferrous, non-ferrous
Office paper
Glass bottles and jars
Aluminum cans
Newspapers
Printers Scrap
Magazines
Phonebooks
Note: Please inquire about any unusual product and we will evaluate the recycling potential. In addition, the volatility of the current recycling market may force changes to products that may be recycled.